Dartford Crossing cashless system date set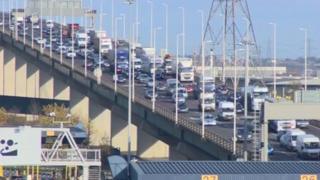 The new cashless charging system at the Dartford Crossing in Kent will come into effect at the end of November.
The Highways Agency said it wanted to warn motorists of the date and of pre-payment accounts being available.
But it added that the new project would not be fully in place until the end of April 2015 when changes to the road layout will be completed.
The Dart Charge will see barriers removed and motorists charged via number plate recognition cameras.
'Considerable time'
The agency added that the website, systems and infrastructure had been installed and were currently being tested to ensure that they operate reliably.
Highways Agency project leader Nigel Gray said: "Dart Charge is a massive change for drivers using the Dartford Crossing and it is only right that it is thoroughly tested before being introduced.
"We can reassure drivers that we will give them plenty of notice before the changes are introduced.
"They will have considerable time to sign up for a pre-pay account, which for most will be the easiest and cheapest way to pay the charge, with discounts of up to a third on every crossing."
There have been fears that the new system could cost millions in unpaid tolls.
But Mr Gray said there would be systems in place to detect foreign vehicles.