Lenham and Headcorn housing plans 'failing residents'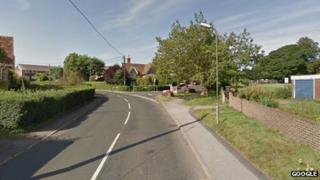 A Kent council is "failing to protect" residents of two villages over plans to build more than 2,000 new homes, a UKIP councillor has said.
Maidstone Borough Council has said it wants to build about 1,700 homes in Lenham, with a further 300 at Headcorn.
UKIP councillor Christine Edwards-Daem said the council had "miserably failed" to protect residents.
The Conservative-run council said all areas of the borough had to be considered for the new homes.
Petitions from both villages were presented at a meeting of the council on Wednesday.
Ms Edwards-Daem said: "People in Headcorn are deciding that this is not something that would fit into a village."
'Unbelievable'
Councillor Annabelle Blackmore, leader of Maidstone Borough Council, said the authority was planning to build about 18,000 new homes before 2031.
"This is for the whole of the borough and we have to consider every single area," she said.
"We can't say nothing in one area, we have to look across the borough in totality."
Colin Gillett, chairman of Lenham Parish Council, said the infrastructure was not in place in the village.
He said it was "unbelievable" that about 10% of all new homes to be built in the Maidstone borough were to be constructed in the village.
Ms Blackmore said: "I can understand it is a disproportional amount [in Lenham], but we do have to consider other services."
She said Lenham already had primary and secondary schools, medical facilities, a train station and a main road near the village.