Kent councillors prefer Westenhanger for new lorry park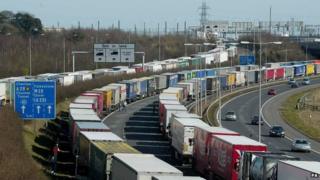 A site off the M20 at Westenhanger is the preferred location of councillors in Kent for the construction of a new lorry park.
Kent County Council's environment and transport cabinet committee discussed three options to tackle overnight lorry parking and Operation Stack.
The matter will now pass to the cabinet member for environment and transport, with a public consultation in January.
If approved, construction of the site could be completed by May 2018.
Councillors said a government decision on the preferred corridor for a new Lower Thames Crossing could be a significant influence on the location of a second lorry park, which could be constructed within the next five to six years.
Westenhanger was selected from three possible options, which also included sites at Ashford and Dover.
Thousands of lorries pass through the county every day but there is only official capacity for parking about 550 of them at any one time at nine existing truck stops.
Problems have also been caused by lorries parking overnight in residential roads, industrial areas and country lanes, resulting in noise, nuisance, litter and anti-social behaviour.
The council said the new park would also act as a holding area for HGVs during Operation Stack, when lorries are held on the M20 if there is disruption or delays at the Port of Dover.