Manston Airport bidder says cargo is the way forward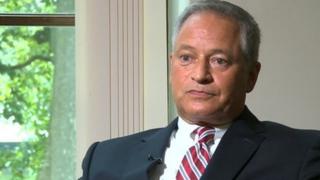 A US businessman who had three bids to buy Manston Airport turned down has said he can secure £20m to reopen it.
Stephen de Nardo, of US investment firm RiverOak, said the focus on passenger services in the past had been wrong and cargo was now the way forward.
He said he offered owner Ann Gloag the £7m asking price before the airport was closed in May.
"I don't know what she was looking for," Mr de Nardo said. "We were willing to show her proof of funds."
Ms Gloag has not commented on the future of the airport.
'Profitable'
It was said to have been losing £10,000 a day and closed after Ms Gloag said no "credible or viable" offers to buy it had been made.
But Mr de Nardo said he was convinced the airport could be running again by 2016.
"We're in a pretty good position to not only purchase the airport, but recapitalise it and make it profitable," he said.
Thanet District Council is considering a compulsory purchase of the airport, underwritten by a partner.
A spokeswoman said: "We are currently reviewing whether compulsory purchase of the airport is a viable option. A decision on this has not yet been made.
"We have been clear that a CPO will not go ahead unless there is evidence of the economic viability of the site operating as an airport and a suitable investor could be identified to cover all of the associated costs."
The airport was bought by Ms Gloag, who co-founded the Stagecoach Group, last October.