Three Kent sites named for new lorry park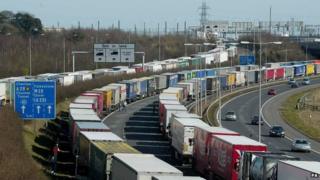 Three possible sites have been named for the first of a network of new lorry parks in Kent to tackle HGVs parking away from official truck stops.
Kent County Council (KCC) said problems were caused by lorries being parked in residential roads, industrial areas and country lanes.
Councillors are due to select one option from sites Westenhanger, Ashford and Dover.
Kent Green Party said drivers who did not get expenses would not pay to park.
Thousands of lorries pass through the county every day but there is only official capacity for parking about 550 of them at any one time at nine existing truck stops.
"Being home to both the Port of Dover and Eurotunnel, Kent is the UK's front door to Europe for road freight," said Conservative Councillor David Brazier.
"This does create a number of issues. One that generates a sizeable number of complaints is that of HGVs parking in inappropriate locations and the resulting noise, nuisance, litter and anti-social behaviour."
Resident Christine Drury, whose house and garden are just behind a layby on the A20 near Charing, said: "Urine bottles come into the garden - rubbish comes into the field."
"I've had to put an inner fence 5m inside the main fence because of the the rubbish that gets lobbed over the hedge."
Green councillor Martin Whybrow said: "The real problem is that a lot of foreign lorry drivers do not get expenses so therefore they are not going to use commercial lorry parks."
KCC said the new parks would also act as a holding area for HGVs during Operation Stack, when lorries are held on the M20 if there is disruption or delays at Dover.
It will discuss the three sites on 17 September.