Sheppey Crossing speed reduction backed by councillors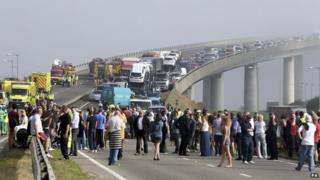 Councillors have voted in favour of a motion to lower the speed limit on the Sheppey Crossing in Kent from 70mph to 50mph amid safety concerns.
It follows a crash last September involving 150 vehicles, and a separate accident in July in which a mother and her eight-year-old son were killed.
Members of the Swale Joint Transportation Board also voted for the installation of average speed cameras.
The measures are due to be discussed at a meeting with the Highways Agency.
'Terrible safety record'
Dozens of people were hurt in the pile-up on the A249 bridge on 5 September 2014, caused by foggy weather and excessive speed.
Monday's meeting of the board was asked by Councillor Pat Sandle to review safety measures for the bridge, which does not have any hard shoulders or overhead lighting.
She had said: "I believe something must be done to make the bridge safer.
"Thousands use it everyday, but it has a terrible safety record."