Tunbridge Wells 'grot spot' cinema demolished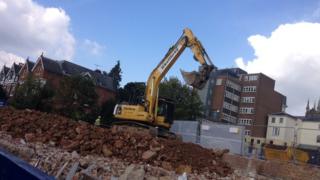 A derelict town centre cinema in Kent that was branded as a "grot spot" has been demolished.
The former ABC cinema in the centre of Tunbridge Wells has been empty since 2000 when the out-of-town Odeon opened at Knight's Park.
Demolition work started in July but workers using a digger tore down most of the brick structure on Tuesday.
The owners said they were ahead of schedule and the site should be levelled off and tidied up by October.
The site was branded the town's "number one grot spot" by Liberal Democrat councillor Ben Chapelard, who has campaigned for the redevelopment of the site.
In February, the Conservative-led borough council issued a demolition notice on the owners.
The authority has not received a planning application for the site, according to a spokeswoman.