Stowaways found clinging to motorhomes in Kent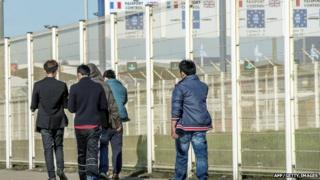 Three men have been arrested on suspicion of illegal entry into the UK after being found hanging onto the underneath of motorhomes in Kent.
Police said one was detained after officers were called to the London-bound carriageway of the M20 between junctions nine and eight at 09:16 BST.
Two other men were found under a vehicle at the Dartford River Crossing at 13:37.
All three were transferred into the care of immigration officials.
It follows the discovery on Thursday of a migrant in the back of a woman's car after she had returned to England through the Channel Tunnel.
The Freight Transport Association has also said 300 stowaways were discovered on 69 lorries in just one day in the Port of Calais this week.
Riot police
French police are sending re-enforcements to the port to deal with the influx of migrants trying to enter the UK illegally through Kent.
On Wednesday, about 235 illegal migrants tried to force their way on to a P&O ferry at Calais.
Cross-Channel travellers have been urged to remain vigilant whenever leaving their vehicle.
P&O Ferries' spokesman Chris Laming said people should "not be afraid".
"We understand the French have around 80 police officers in the Calais area and that around 40 riot police are travelling up from the south of France to join them," he said.