Newington village WW1 book of remembrance unveiled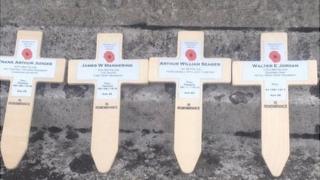 A hand-stitched, leather-bound book created by villagers to honour soldiers who died in World War 1 has been unveiled and dedicated.
Three amateur historians in Newington village, near Sittingbourne, spent 18 months researching the lives of 31 men who died in the conflict, and 120 who returned from the fighting.
The team said they started with only the names on the village war memorial.
They used newspaper archives and word-of-mouth accounts for their research.
'No descendants'
Richard Thompstone, from Newington History Group, said many of the men who died were young and childless and had no direct descendants to remember them.
The team found basic details, such as rank, regiment and date of death, on the internet and then turned to archives, parish magazines, and older people in the village.
Debbie Haigh, one of the historians, said her great-grandfather Henry Bishenden died in September 1916, leaving a wife and five children.
"He was blown to pieces," she said. "He was standing next to two men from the village. They were injured and they survived the war, but he was obliterated.
"It shows you can't control who lives or who will be shot or blown up. Those men went to war, they knew they were going to war and they knew why."
Once the team had documented the lives of the men who died, they turned to the stories of those who fought in the war and survived.
The accounts of the men who died have been recorded in the Book of Remembrance, and the team's further research on the men who survived will be published in the future, Ms Haigh said.
The Book of Remembrance was unveiled and blessed by the Bishop of Dover on Sunday.