Dover's Silver Screen Cinema 'found new role'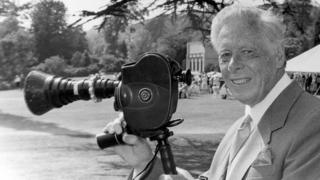 A 99-seat cinema in Kent that faced closure has reopened after new digital and sound equipment was installed.
Dover's Silver Screen Cinema already claims to be among the smallest cinemas in the UK and said it was one of the last to move to digital projection.
The town and district councils stepped in with £40,000 to pay for new equipment to keep it open.
Dover Film Festival said the cinema had also had to find a new role ahead of a multiplex opening in the town.
Mike McFarnell, from the festival, said: "We have always loved our little cinema. With the new five-screen cinema that's going to come in, it needed almost another role.
"The general view is it can provide more for the community and that should be a good thing."
'Bit old-fashioned'
He said the changes at the Silver Screen cinema in Market Square could see the town's film festival expand and move there from the town hall.
And a "Dover Film" has been created in the town since 1971, originally by film-maker and photographer Ray Warner who worked in reconnaissance during World War 2. It is now made each year by Mr McFarnell.
The cinema operator and film festival have both said the Ray Warner archive, currently held by Dover museum, could be shown at the Silver Screen as it develops local audiences and community interest.
Dover town mayor Pam Brivio said: "We hope to see greater community involvement in growing our cinema with this new equipment."
"It's a bit old-fashioned and people like that," Mr McFarnell said. "It's small and they still serve drinks down the aisles."
The district council said the Silver Screen, which would still continue to show latest releases, would complement facilities at the new multiplex.
The cinema reopened earlier.