Sheppey Crossing 'remains unsafe' a year after pile-up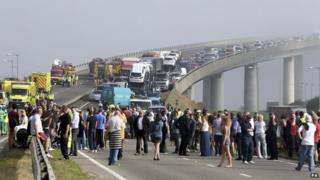 One year on from a 150 car pile-up on the Sheppey Crossing, there have been calls for greater safety improvements on the road.
Foggy weather and excessive speed was blamed for the crash on 5 September 2013.
It led to immediate calls for greater safety measures on the bridge, including a hard shoulder, speed limits and improved lighting.
However, campaigners have claimed that nothing has been done since the crash.
With visibility down to 18m (59ft), dozens of people were hurt in the crash.
One of them, Gill Hudson, said she has just begun treatment for post traumatic stress disorder.
She said: "The noise was the worst thing because you couldn't see it and with every bang I was screaming.
"I kept expecting to see a fireball or people jumping off the bridge. I certainly expected fatalities."
Despite no one being killed in the September pile-up, on 1 July, Deborah Roberts, of Sheerness, and her eight-year-old son Marshall were killed in a collision on the crossing. Her seven-year-old son, Archer, who was also in the car, survived.
Her sister, Emma Tweed, said: "This isn't a one off occurrence of accidents happening on that bridge, something needs to be done - that bridge is not safe.
"Archer doesn't quite understand that they're not coming back. He's had a lot of moments where he's wanted his mum and Marshall, because they were best friends.
"He doesn't like talking about it. He doesn't like getting in a car anymore. He won't go over that bridge whatsoever, so it's messed that little boy up."
Swale councillor Pat Sandle said she would be leading calls for action at a council meeting on Monday.
"I would like to see a 50mph limit imposed," she said.
"If we could get that with speed cameras I think we don't have to wait until there's another death."
The Sheppey Crossing opened in 2006 and links the Isle of Sheppey with mainland Kent.
A spokeswoman for the Highways Agency said: "Safety is one of our top priorities. Following any incident where the police carry out an investigation and make recommendations, we naturally take full account of any that relate to the design, operation or maintenance of our roads.
"With specific reference to the road in question, it would not be appropriate for us to comment at this time as a police investigation is still ongoing [into the death of Ms Roberts and her son].
"However, we are committed to meeting local MPs, councillors and other interested parties to discuss the crossing once it is possible and appropriate to do so."