Plaque in memory of Dover's Norwegian sailors unveiled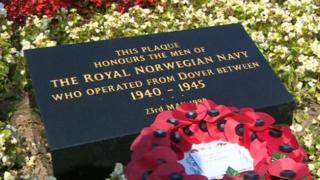 A plaque has been unveiled in Kent in memory of the Norwegian sailors stationed in the port town of Dover who were killed in World War Two.
Veterans and serving members of the Merchant Navy gathered at Dover Town Hall for a service to mark Merchant Navy Day ahead of the unveiling.
A wreath was laid at the Merchant Navy War Memorial on Dover seafront.
The memorial to the sailors who fought alongside the British is in the nearby Royal Norwegian Garden of Remembrance.
There were 1,000 ships in the Norwegian Merchant Navy which joined the Allied Forces during World War Two.
Four hundred were lost, taking with them the lives of 2,200 Norwegian Merchant Navy sailors.
Another 320 sailors from the Royal Norwegian Navy also died.
Royal Navy Commander Nick Chatwin said: "The Merchant Navy are our brothers. We're all seafarers, we're in the same business.
"We couldn't do what we do in the Royal Navy without the fantastic support we've always had from the Merchant Navy standing alongside us and providing very often the unseen support that people often forget about."
Merchant Navy veteran Donald Hunter, who organised the day's events, said it was "very important to remember those that gave their lives".
"We were the lucky ones - we came back," he said.
"We should remember those that never returned. They didn't get any medals."