Religious leaders hold Middle East peace vigil in Tonbridge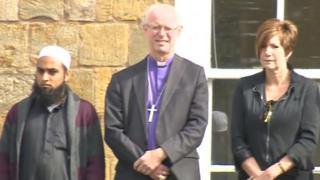 Dozens of people have attended a vigil in Kent after religious leaders condemned "violence and atrocities" in the conflicts in the Middle East.
The Bishop of Rochester joined representatives of Muslim and Jewish communities at the vigil in Tonbridge.
"In light of the horrific situation in Iraq and elsewhere in the Middle East, we want to stand together as faith leaders," said the Rev Mark Barker.
The vigil took place in the grounds of Tonbridge Castle in the town centre.
'Unfolding tragedy'
Mr Barker, vicar of St Stephen's Church in Tonbridge and chair of Tonbridge Area Churches Together, said the religious leaders had become increasingly concerned about the situation in the Middle East.
A statement said the leaders had "watched with sadness and helplessness" Syria being torn apart by Civil War, the recent escalation of violence between Israel and Hamas and the tragedy unfolding in Iraq.
The statement was by Mr Barker, imam Yasser Balesaria and Mohammed Uddin, secretary of Tunbridge Wells Islamic and Cultural Association, David Marchant, chairman of Kent Liberal Jewish Community, and Stella Collins, representative of the Baha'i Faith in Tonbridge.