Kent's PCC Ann Barnes challenges David Cameron over gun licences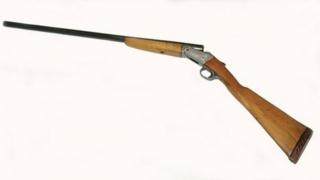 Kent's police and crime commissioner has written to the prime minister to ask why a decision to raise gun licence fees appears to have been overturned.
Kent Police says it is facing a shortfall of £700,000 a year processing licences, which Ann Barnes said was equivalent to 18 police officers.
A governance board meeting heard the fee for a new licence was £50, but the administrative cost was £189.
A government spokesman said it kept the firearms licensing system under review.
"The UK has some of the toughest gun laws in the world and we are determined to keep it that way.
"We are working to improve the efficiency of the gun licensing process, including the proposed piloting of an online system by the police in the autumn with a view to rolling out next year," said the Downing Street spokesman.
'Relentless cuts'
Mrs Barnes said it was wrong to expect taxpayers to contribute towards the administration costs of the licences.
"I find it very hard to understand why this full-cost recovery decision, approved by the Home Office, the Treasury and minister responsible appears to have been overturned by the prime minister," she said.
"On behalf of the people of Kent I want to know why.
"I think the majority of the public would want to see 18 more officers on the street and to ask those who want to keep firearms and shotguns to pay more towards the actual cost of issuing the licences."
According to The Guardian newspaper a plan to raise the fee to cover more of the processing costs was halted by Downing Street.
Deputy Chief Constable Paul Brandon told the force's governance board on Tuesday that Kent Police was only recovering between 26% to 37% of the true cost of individual licences.
The cost includes checking databases, obtaining medical evidence, verifying the identity of the individual and their referee, reviewing storage and maintaining a database of holders and their weapons.
Last year Kent Police renewed more than 2,000 shotgun licences.