Dartford Crossing search uncovers 13 suspected illegal immigrants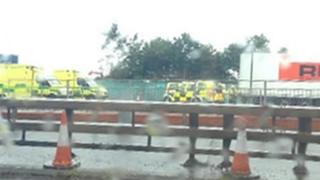 Thirteen suspected illegal immigrants have been discovered in the back of a lorry at the Dartford River Crossing, paramedics said.
Kent Police said the force was called to a report of the discovery at about 11:30 BST.
South East Coast Ambulance Service said one person was taken to hospital after paramedics were called at 11:38 BST.
A Kent Police spokesman said the immigration service was managing the investigation.
An ambulance service spokesperson said the person taken to hospital was not believed to be in a life-threatening condition.
Details of the nationalities and sexes of the people found were not immediately available although no children were believed to have been among them.
The lorry is understood to be owned by Riboni, an Italian transport company.
The ambulance spokeswoman said: "Our crews assessed 13 individuals at the scene.
"One required transportation to hospital and they were taken to the Darent Valley Hospital.
"They didn't appear to be in a life-threatening condition."
She said the other 12 were taken to Dover, where there is an immigration and removal centre.
The discovery led to heavy traffic congestion on approaches to the area.
The Home Office said the stowaways would be questioned later.
Officials warned people tempted to put their lives in the hands of organised smugglers that they were putting the lives of themselves and their families at risk.
A Home Office spokesman said: "Drivers and hauliers must take adequate steps to secure their vehicles from illegal immigrants trying to smuggle themselves across the border.
"If a driver does not take these steps - and is found with people hiding in their vehicle - they will be issued with a civil penalty."