'Irritant smoke' warning as crews tackle Sheppey blaze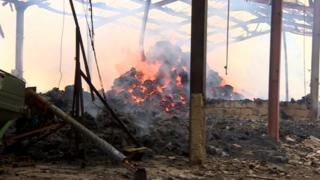 People have been warned to stay inside their homes while fire crews tackle a large blaze at a Kent farm.
At its height, about 50 firefighters were trying to extinguish fires at three barns in Elm Lane, Minster, the Isle of Sheppey, which began at about 01.20 BST.
Kent Fire and Rescue Service said smoke from the flames was thought to contain "potentially irritant substances".
Farm machinery was used to break up hay bales to help stop the fire spreading.
A fire service spokesman urged people to "remain inside their homes and keep doors and windows closed as a precaution".
The cause of the fire is not yet known and an investigation will begin later, he said.