Barton Court Grammar school to remain in Canterbury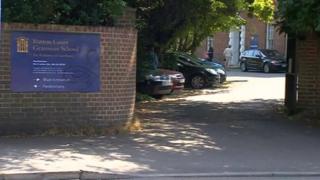 Proposals to relocate a grammar school in east Kent have been rejected because it would be too expensive.
Barton Court Grammar School in Canterbury will remain on its existing site in the city.
Governors wanted to close the school's site in Longport and relocate to a new development in Herne Bay to solve the lack of grammar provision there.
Chairman of governors Dr Peter Klappa said the project had been halted following "careful consideration".
"We are no longer actively looking to move to the coast and are concentrating our efforts on improving [the] best we can the facilities on the current site," he said in a statement.
'Prudent decision'
"Governors felt that the funding gap between what we could raise and what we would need to spend had become too much of a risk for the school," he added.
The Conservative MP for Canterbury and Whitstable, Julian Brazier, described the decision to stay as prudent.
"Whilst I am sure that some prospective parents in Whitstable and Herne Bay are saddened by this decision, as it would have been an excellent opportunity for a coastal grammar school, the decision is a prudent one when considering the funding gap that has opened up between the original offer and now.
"I hope that everyone who has contributed to the process, from both sides of the argument, will support the head teacher and the governors as they work towards improving facilities on the current site," he said.
Barton Court is one of three grammar schools in Canterbury, while there are none in Herne Bay.