Partners sought by Thanet council over Manston Airport future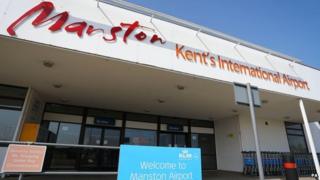 Businesses keen to support Thanet council with the compulsory purchase of Manston Airport have to come forward by the end of Wednesday.
The site in Kent was closed by current owner Ann Gloag in May after it was revealed it was losing £10,000 a day.
An independent report found the council would need a partner who could make significant investment in the airfield if the purchase were to go ahead.
US investment firm RiverOak has had three bids to buy the airport rejected.
'Strict procedures'
Interested businesses have to complete a questionnaire to identify their interest, capacity and capability in the market by 1 September in order to be considered as an indemnity partner should the council decide to apply for a compulsory purchase order.
Earlier this month, Iris Johnston, the Labour leader of Thanet District Council, said the council was going through "very strict procedures" to discover if the airport could be reopened.
She said no compulsory purchase order would be considered unless it had the backing of an investment group to provide the necessary support.
The council's cabinet is due to consider the options open to it in the autumn.