Levi Bruce jailed for acid attack on Gravesend brothers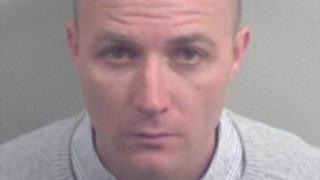 A man who threw acid in the faces of two teenage brothers has been jailed for seven years.
Levi Bruce, 31, of Moultain Hill, Swanley, pleaded guilty to grievous bodily harm with intent at Maidstone Crown Court.
He doused a 16-year-old boy and his 19-year-old brother in drain cleaner in Gravesend on 21 January.
The older youth, who suffered burns to his face and legs, described the pain as "like being burned by a blow torch".
'Appallingly violent'
Kent Police said Bruce had become involved in the altercation following a dispute between two families.
Det Con Roger Harris said: "To say this was a malicious and mean-spirited attack is an understatement.
"Drenching two men in a corrosive substance is an appallingly violent thing to do.
"Bruce claimed in interview that he just threw the contents of the bottle at them in self-defence and had no idea what sort of liquid it contained.
"I absolutely reject this idea.
"Both victims will be scarred for life from their injuries and have months of medical treatment ahead of them."