Plaque for social reformer unveiled in Tunbridge Wells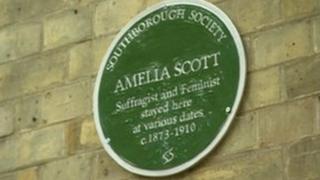 A plaque has been unveiled in Kent at the former home of social reform pioneer and suffragette Amelia Scott.
The memorial has been unveiled on the side of the house in London Road, Southborough.
During her lifetime, from 1860 to 1929, Ms Scott worked in Tunbridge Wells for projects including hostels for working women and social housing.
She was also a suffragette and vice-president of the National Union of Women's Suffrage Societies in the town.
The Southborough Society commissioned the plaque.
'Learnt the values'
Ian Kinghorn, from the the group, said: "Amelia's many campaigns in the Tunbridge Wells area included not only support for the non-militant suffrage society but also amenities for working women and girls."
The plaque was unveiled by Dr Anne Logan, senior tutor and senior lecturer in social history at the University of Kent.
She said: "This means a lot because it is recognition of the life and work of a woman who lived about 100 years ago and did a huge amount for her home town in terms of social work and health reform and and also campaigning that women should have the right to vote.
"This is her childhood home where she learnt the values that she grew up with and was able to put into practice as her work as an adult."
In 1919 Ms Scott was one of the first two women to be elected to the Tunbridge Wells Town Council.