More than £100,000 seized from Syria aid convoys at Dover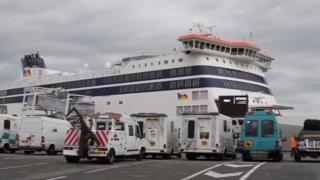 More than £107,000 has been seized from aid convoys travelling from Dover to Syria by land, in the past two years.
Figures obtained by the BBC also showed 13 men were arrested and bailed in connection with an ongoing fraud investigation, relating to the convoys.
The number of Syria aid convoys going through Dover has dropped from 31 in 2013, to six between January and July 2014.
Kent Police said it was aware of 47 aid convoys to Syria since January 2012.
The force said the figure included 10 in 2012, 31 in 2013, and six from January to July 2014.
"Some of those convoys have comprised dozens of people, from all over the UK," the spokesman said.
"From those over-land convoys, cash in various currencies worth more than £107,000 has been seized under the Proceeds of Crime Act (where those travelling could not account for where the cash had come from or where it was going)."
The spokesman added 13 men from across the country had been arrested and bailed, as part of an ongoing suspected fraud investigation.
BBC South East Today's political reporter Ellie Price, said the reasons behind the reduction in the convoys were "debatable".
She said the government and Charity Commission had made a concerted effort to try to dissuade smaller charities from taking part in convoys.
She said there had been concerns among the authorities that some of the convoys had been used by people intending to travel to Syria to fight.
Abdul Waheed Majeed a father-of-three from Crawley in West Sussex, died in February, when he drove a truck bomb at the gates of Aleppo Prison.
He travelled to Syria with an aid convoy from the charity Children in Deen, which travelled through Dover.
Children in Deen is currently being investigated by the Charity Commission.