Ebbsfleet Garden City: Public asked for views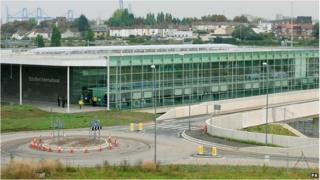 Members of the public have been asked to express their views on a development corporation for a new garden city at Ebbsfleet in Kent.
The corporation will help local authorities drive forward the development of the 15,000-home scheme.
Communities Secretary Eric Pickles invited the public to give their opinions on the area it will operate in, and its planning powers.
Attempts have been made to build new homes at Ebbsfleet since 1996.
Planning permission was granted for about 6,000 new homes at Eastern Quarry, near Ebbsfleet station, in 2007 but nothing was done, Dartford MP Gareth Johnson said.
Ebbsfleet is a stop on the high-speed rail line to the Channel Tunnel.
The corporation is expected to be established in early 2015, subject to parliamentary approval.