Council-owned Ramsgate Port 'in talks' with ferry firms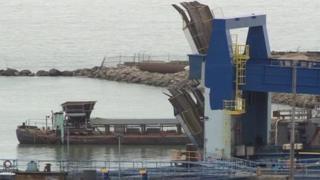 Talks are under-way with potential ferry operators for Ramsgate port, Thanet council has said.
The development comes weeks after the council published a business plan for the town's port and harbour.
A search for an operator began after TransEuropa went into administration, leaving the council-owned port without a cross-Channel service.
Councillor Mike Harrison said he could not name the potential operators but opportunities were "in the offing".
'Competing with giants'
Opposition Green Party councillor Ian Driver has said the business plan - called the Ramsgate Maritime Plan - "defies economic reality".
He said the port could not compete with nearby "maritime giants".
He said: "We've got the Port of Dover which is less than 20 miles away, and the capacity at Dover for ferry, for freight, for cruise liners [and] it is going to be doubled.
"Then just about 60 miles away, on the Thames Estuary you've got the London Gateway Port, the biggest freight terminal that's been opened in a generation."
But Mr Harrison, Labour cabinet member for operational services, said: "We have every chance of owning a successful ferry service and other services as well.
"We're talking to several people. I'm not going to say who they are, but there are opportunities."
He said: "We remain optimistic and the production of the Ramsgate Maritime Plan is part of the overall strategy for making the port and harbour a success."