War pilot medals stolen from son in Folkestone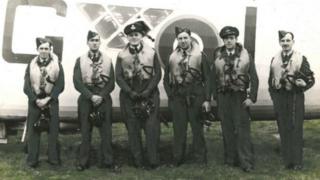 Four World War Two medals awarded to an RAF pilot who lost his life in the conflict have been stolen in a break-in at his son's Kent home.
The medals awarded to Sgt R D Arding, who flew Lancaster bombers, were stolen from a house in Folkestone last month.
They also included an Atlantic Star, given to those who took part in operations at sea.
A 26-year-old Folkestone man has been arrested on suspicion of theft and bailed until 13 October.
Kent Police, who are appealing for help from the public to find the medals, said cash, bank cards and a sapphire ring were also stolen in the burglary.
"These medals were awarded to the victim's father for his services to his country," said PC Geraint Morgan.
"He served with the RAF and sadly paid the ultimate price in defending his country.
"His medals have been looked after by his son ever since and to have them go missing has caused a great deal of upset due to their sentimental value."