Snowdon challenge for wheelchair-bound Kent boy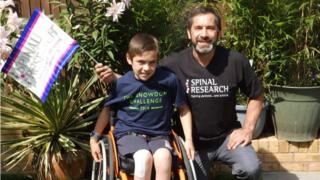 An 11-year-old boy who uses a wheelchair after suffering a spinal tumour is climbing Snowdon to raise funds for charity.
Jacob Rafferty, from Halling in Kent, is being helped by 20 Metropolitan Police officers and his parents.
He has been paralysed and unable to walk since the age of eight, but is using a specially-built mountain-climbing wheelchair for the challenge.
The youngster has so far raised more than £1,800 for Spinal Research.
His parents, Emma and Adrian, who are both in the Metropolitan Police Territorial Support Group, said they wanted Jacob to know that he could do anything he set his mind to in life.
Metal rods
"If Jacob had not been operated on three years ago the spinal tumour would have grown and grown and Jacob would have died," said Mr Rafferty.
"We didn't know it would all end in paralysis but we knew there was a risk."
Later this month, Jacob will undergo an operation to insert metal rods in his spine to help him grow straight, which will have to be changed as he grows into adulthood.
His parents said they were optimistic about the future
The family travelled to Wales on Friday ahead of the challenge.