Manston Airport would need 'hundreds of millions' to succeed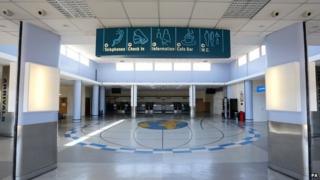 Manston Airport in Kent would need hundreds of millions of pounds of investment and political support at national level to stand a chance of operating successfully, a report says.
The Thanet Council document was put together by consultants hired to look at the viability of reopening it.
The report suggests a 20-year business plan would be needed to rebuild confidence in the airport.
It adds there are "never any guarantees of success".
The report, published on Monday night, was commissioned by the district council and produced by aviation industry experts Falcon Consultancy Limited.
'Many people'
It said a parkway train station and an improved high-speed rail link were of "critical" importance to the airport's future.
Roger Gale, Conservative MP for Thanet North, is among those who have been campaigning to save the airport.
He said: "I'm concerned that this [report] may be used by those at local and county level who want to see the airfield developed as something else to say 'oh, of course we can't possibly achieve this'.
"We can achieve it, there are very many people who want to achieve it."
The authority said that work to establish whether there were grounds for making a compulsory purchase order for the airport was continuing.
The airport was bought for £1 by Ann Gloag, co-founder of the Stagecoach Group, last October but was closed in May with the loss of 150 jobs, despite three offers to buy it from US investment firm RiverOak.
The council's cabinet is to decide whether to accept the recommendations in the report at a meeting on Thursday.