Support for Manston Airport purchase bid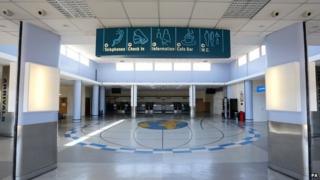 The fight to reopen Manston Airport has seen a US firm offer to support a bid by Thanet council to buy the site.
Investment company RiverOak said it sought to be Thanet's commercial partner through a compulsory purchase order (CPO) process.
The information came to light after campaigners obtained a copy of a letter from RiverOak chief Stephan DeNardo to council leader Iris Johnston.
Thanet council has been considering whether to issue a CPO for the airport.
The airport shut in May after it was revealed it was losing £10,000 a day.
In the letter, which campaigners passed to the BBC, Mr DeNardo wrote: "We are ready to give Thanet a full indemnity. We are now anxious to start and have a goal of having an agreement with the council in place in the next 21 days."
Ruth Bailey, from the Save Manston Airport campaign, said: "The pressure is now on Thanet District Council."
Thanet council has not yet commented on RiverOak's offer, but Ms Johnston has already called for a potential CPO to be explored in detail.
A final decision on the CPO is currently not due to be made until detailed options are reported to the council's cabinet at a later date.