RNLI warning after siblings' Ramsgate rescue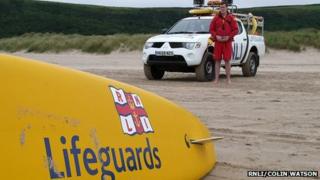 The RNLI has issued a warning for children to stay safe at the seaside after a girl narrowly avoided being swept into the path of a shipping lane.
Alexandra Hewitt, 12, and her adult brother were among a group in shallow water at Ramsgate beach in Kent when they were caught in a rip current.
They were spotted struggling in the sea on Wednesday before being rescued by a beach lifeguard using his rescue board.
The RNLI warned the currents around Ramsgate's harbour arm could be strong.
James Uren, RNLI lifeguard supervisor, said: "Alex could have potentially been swept out into a busy shipping channel if it were not for the actions of the lifeguards."