Strood woman's fear after attack by neighbour's dog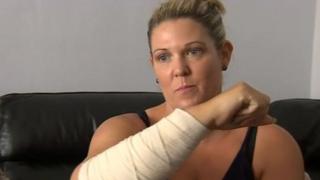 A woman has said she fears for her family's safety after she was bitten by her neighbour's dog which had escaped into her garden as she sunbathed.
Rachel Potter, from Strood in Kent, needed hospital treatment for wounds to her arm after Monday's attack by the Staffordshire Bull Terrier Cross.
Owner Denise Smith said she was very sorry for what had happened and that her dog must have been startled.
Kent Police said investigations into what had happened were continuing.
The force said it only had the power to seize a dog immediately if it was out of control in the presence of officers.
If this was not the case then a dog could be seized at a later date, if proved to have been out of control, following an investigation.
'Not vicious'
Mrs Potter said she only realised the dog had broken through the garden fence when she heard panting.
"I opened my eyes and the dog was literally jumping on me towards my face," she said.
"As I put my hand up to protect my face and stood up, it bit into my arm."
She managed to fight the dog off before going to hospital.
Her husband Mark Potter said the family wanted the dog to be taken away.
"We feel that the police haven't helped us," he said.
Ms Smith said her dog, called Chase, was not vicious and was good around children.
"I've done my best to ensure he's not running wild.
"If I'd known there was a hole in the fence I would never have allowed him in the garden."
Ms Smith said she had accepted that Chase could be taken away from her and possibly destroyed.