Roger Daltrey backs Ashford model railway museum plans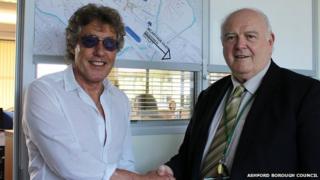 Rock star Roger Daltrey has backed plans for the creation of an international model railway museum.
The Who front man joined council leaders to discuss proposals for a two-and-a-half acre site to be based by Ashford station, in Kent.
Daltrey, who lives in Sussex, has previously spoken about his fondness for model railways.
Ashford Borough Council said it was "delighted" to have his support and called Friday's meeting "productive".
In a BBC Radio 2 interview with Chris Evans in March, Daltrey said model trains were his "number one passion."
"The great thing about model railways is you can be doing a bit of woodwork, a bit of painting, a bit of this, a bit of that, and have fun with your mates," he said.
At the time he said he had been working with "a few pals down in Kent" to develop a national model railway museum in Ashford.
The model railway museum would consist of 20 permanent layouts plus several visiting tracks that would change every three months.
Ashford Borough Council said a formal planning proposal would be lodged "in the very near future."