Kent County Council cools Manston Airport purchase speculation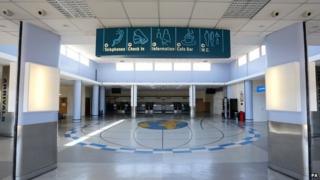 Kent County Council has cooled speculation that it would financially back a compulsory purchase order of Manston Airport.
Thanet District Council is considering whether to buy Manston, which closed in May.
It has been suggested that the county council could help to back the district council in the purchase.
However, Paul Carter, who is the leader of the county council, said the airport typically lost money.
He said the county council had not given up on the airport and was awaiting a feasibility report from the district council.
"Bearing in mind for 15 to 18 years people have done nothing but lose money trying to run an airport at Manston," he said.
"But let's get the report and then it is Thanet District Council's intent - because they're in the driving seat and the only people that can implement the CPO powers - to invite expressions of interest to see if there are any parties that have got exciting propositions to run an airport at Manston."
'Not willing'
Nearly 7,700 people have signed a petition calling for the compulsory purchase.
Labour county councillor Will Scobie said the council should provide financial support to help keep the airport open.
"We're not saying we're going ahead with the compulsory purchase order at the moment, we want to get the legal background to this and find out whether it is possible," he said.
"We want to look out for a partner to possibly come and back this.
"It's important that we bring this evidence into the debate, but Kent County Council are not willing to back us at the moment though."