Natalie Esack murder: Domestic abuse 'not investigated fully'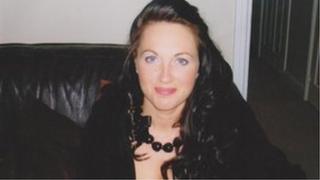 Domestic abuse complaints from a woman murdered by her estranged husband should have been investigated more fully by police, a report has found.
Natalie Esack was stabbed to death by Ivan Esack in her hair salon in Ashford High Street, Kent, on 30 April 2012.
Former police officer Esack, was found guilty in January 2013 at Maidstone Crown Court and sentenced to life.
A report found Mrs Esack, 33, contacted Kent Police on five occasions to report domestic abuse or concerns.
'Risk factors'
The multi-agency review found "there were a number of missed opportunities to take more assertive action" to protect her from Esack, who had resigned from the force in 2009.
But the report also found Mrs Esack, who had begun a new relationship, was reluctant to take matters further and risk harming his career prospects as a football agent.
Det Supt Tim Smith from Kent Police said: "There were times we could have responded differently that could have had different outcomes."
Mrs Esack was working in the hairdressing business she owned when Esack walked in and stabbed her 11 times just after 09:00 BST. She died at the scene.
He denied murder but admitted manslaughter on the grounds of diminished responsibility and the judge recommended he serve at least 28 years in prison.
Mrs Esack first called the police because of his behaviour in December 2009 on the day he resigned from his job as a Kent Police officer.
In February 2012, two months before her death, Esack had gone to the house where she was living carrying a knife and Mrs Esack had called police because he was threatening to slit his throat.
The following month her friend called police to report Esack that was outside shouting and banging on the door.
'Escalating abuse'
He also said that the previous day, Esack had gone to his former wife's workplace and strangled her until she passed out.
But the police officer who visited saw no injuries, Mrs Esack confirmed she wanted no further action taken and there was no mention of the strangulation incident.
A counsellor she told about the strangulation did not notify police because Mrs Esack falsely claimed she told them.
Police classified her case as medium-risk.
The report said: "There was evidence of escalating abuse towards (Mrs Esack) in the six months before her death and risk factors in (Esack's) behaviour.
"The incidents in March 2012 should have been investigated more fully despite (Mrs Esack's) reluctance."
The report also found that various medical agencies seen by the couple, including their GP, East Kent Hospitals NHS Trust and KCA, which deals with drug, alcohol and mental health services, had no knowledge of domestic abuse.
Drug abuse
The report concluded stated that there should have been a "multi-agency risk assessment" and a "robust safety plan" put in place to protect Mrs Esack.
But it "was not possible to conclude that the above actions would have prevented (Mrs Esack's) death."
The couple met in 2003 and married in October 2006 but separated in September 2011. Mrs Esack was living with her father and had a new boyfriend.
Esack served with Kent Police from July 2003 to January 2010 but resigned in December 2009 after issues with alcohol and drug abuse, and then had a dispute with his supervisors.
Kent Police said it had implemented the findings of the report.