Manston Airport: 7,700 sign compulsory purchase petition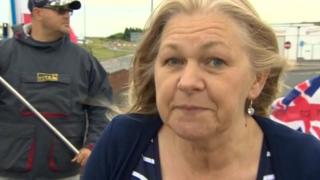 Nearly 7,700 people have signed a petition calling for the compulsory purchase of a Kent airport closed down by its owner in May.
The petition, signed by 3,361 people online and 4,330 on paper, was due to be considered by Thanet District Council during a debate on Manston.
Campaigner Mark Cornwell said if it is to reopen it would have to be soon.
The council has said the financial implications of compulsory purchase would have to be fully examined.
Equipment removed
Airport equipment, including aircraft boarding steps, fire tenders and X-ray machines, will be put up for sale from 23 July.
"Things are being removed on a daily basis," said Mr Cornwell.
Manston airport was bought by Ann Gloag, co-founder of the Stagecoach Group, in October.
It was shut with loss of 150 jobs - despite three offers to buy it being made by US investment firm RiverOak.
Large turnout
On Wednesday, TG Aviation - which runs a flying school and club at the airport - lost a High Court bid to be allowed to continue using the runway.
Campaigners, including Ruth Bailey, have held a vigil at the site while collecting signatures for the petition.
She expects a large turnout for the council meeting.
"TDC have provided an extra room for us and I should think there will be people standing outside," she said.
"It is such an injustice that someone has come into this area, bought an airport and closed it within months."
The council's motion affirms its "considerable disappointment" at the closure of Manston, recognises the public support for its continuation as an airport and urges a detailed examination of the implications of compulsory purchase.
A spokesperson for Manston said it welcomed the High Court decision not to allow TG Aviation to use the airport but would not comment further.