Blantyre House: Robbers Shaine Tester and Sean Horsley abscond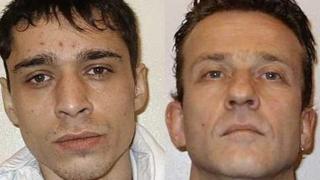 Two men serving sentences for robbery have absconded from a prison in Kent.
Shaine Tester, 25, and Sean Horsley, 45, failed to attend a roll call at Blantyre House Prison in Goudhurst on Wednesday.
Blantyre is a 120-capacity category C/D open prison designed to prepare men for their eventual release.
Both men are described as slim with short brown hair. Tester has a London accent, while Horsley may have his left ear pierced.
Anyone who has seen the two offenders is asked to contact Kent Police.