Medway Maritime Hospital rated 'inadequate'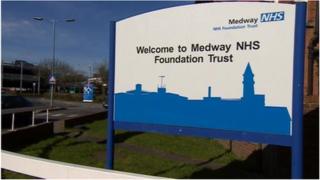 A troubled hospital trust must remain in special measures until urgent improvements are made, England's chief inspector of hospitals has said.
The Medway NHS Foundation Trust in Kent was put into special measures in July 2013 following concerns about mortality rates and standards of care.
Professor Sir Mike Richards said a recent inspection had rated the Medway Maritime Hospital as "inadequate".
The trust said the report was "balanced and fair".
Special measures are a series of actions taken to support failing trusts, including being partnered with a high performing NHS trust and having an "improvement director" appointed.
Too few nurses
In the report, which followed an inspection in April, A&E and surgery at the hospital were rated as "inadequate", while medical care, maternity, end of life care and outpatients were rated "requires improvement".
Critical care and children's care were rated "good".
The report said there were too few nurses and junior doctors on duty, and added there was a reliance on agency staff.
Prof Richards said: "Despite some areas of development, notably in maternity and children's care, overall Medway NHS Foundation Trust has made inadequate progress in the past year for me to recommend that it should leave special measures at this time."
He added: "The senior leadership at this trust is probably the most unstable that we have seen in any trust we have inspected so far under our new approach."
The trust said the report was a "balanced and fair reflection" of where it was on its "improvement journey".
Steve Hams, who is the chief nurse at the trust, said: "While we recognise the need for further improvements, the report rated our critical care services and services for children and young people as 'good', as well as caring throughout the hospital as 'good'.
"In addition, the inspectors noted the significant improvements made in the overall care provided to women in our maternity and family planning services".
Prof Richards said the trust would continue to be monitored closely.