Kent leisure resort 'would boost economy and education'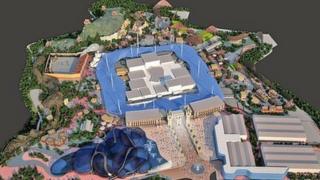 A proposed £2bn entertainment resort in Kent would transform the economy and improve education services, developers have claimed.
London Resort Company Holdings (LRCH) said the development would be "unlike anything seen before".
However, the firm admitted local roads and transport connections would have to be significantly improved to deal with any rise in traffic.
Campaigners have warned transport routes are already congested.
A year-long public consultation begins this week with a series of exhibitions across the region.
'27,000 jobs'
The London Paramount Entertainment Resort would be based on the Swanscombe Peninsula, near Dartford, on a site twice the size of London's Olympic Park.
Plans show the park would include theatres, cinemas, a 5,000-room hotel, sports facilities, events spaces and a park with "themed elements".
Fenlon Dunphy, the director of LRCH, claimed 7,000 people would be employed in the park with 27,000 jobs created overall.
However, he admitted that transport infrastructure would have to be improved with enhancements to roads and a possible new monorail linked to Ebbsfleet International railway station built.
Gravesham Friends of the Earth have raised traffic congestion concerns.
Spokesperson Judy Duffield said: "We need to encourage people to use public transport and the council needs to have a plan."
'Game changer'
Local councils have given their backing to the project but also voiced concerns about transport links.
The Leader of Dartford Borough Council, Jeremy Kite, described the resort as "a real game changer" that would "replace a lot of the old traditional industries" and provide "new opportunities".
He said the council did have "lots of concerns", and the transport issue was "number one on the agenda", but believed these could be overcome.
Critics have previously queried whether the park would create the economic regeneration required in the area.
Roger Vickerman, a professor of economics at the University of Kent, said the county required investment that would deliver "high-value jobs".
"[The resort] will be good in terms of creating employment, but are they the sort of jobs entirely of the type we need in Kent?" he said.