Three jailed for murdering Italian waiter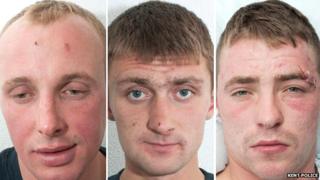 Three men have been jailed for life for murdering a 20-year-old Italian waiter in a bedsit in Kent eight days after he arrived in the UK.
Joele Leotta was found fatally injured above a restaurant in Maidstone after what prosecutors described as a senseless, unprovoked drunken attack.
Aleksandras Zuravliovas, 27, has been sentenced to a minimum of 21 years.
Linas Zidonis, 21, and Saulius Tamoliunas, 23, were both ordered to serve a minimum of 20 years.
The three men, all from Lithuania, will also each serve 12 year prison sentences to run concurrently for grievous bodily harm after being found guilty at Maidstone Crown Court on Monday.
Noise complaint
Judge Philip Statman told them they had acted with murderous intent and shown no mercy in the attack in October.
Kent Police said Mr Leotta and his childhood friend Alex Galbiati were in their bedsit in their pyjamas ready for bed after finishing work when their locked door was kicked in and they were attacked.
Mr Leotta had more than 100 injuries and died that night, while Mr Galbiati survived and gave evidence during the 11 week trial.
The jury was told a complaint had been made to the landlord at the property about noise from a flat where one of the defendants lived.
They believed, wrongly, the complaint had been made by Mr Leotta and Mr Galbiati.
A fourth man, Tomas Gelezinis, 31, was cleared of murder and causing grievous bodily harm.