Channel Tunnel fully reopens after power fault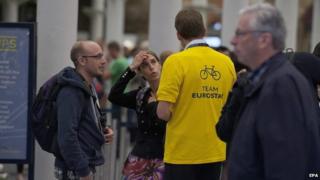 The Channel Tunnel reopened fully after electrical supply problems but delays to rail services continued on Tuesday.
There was major disruption on Monday when an overhead power cable was damaged and one tunnel remained closed until just after midday on Tuesday.
Services are now running through both the main tunnels but there were delays of up to an hour on the Eurostar, and four trains were cancelled earlier.
There is a waiting time of about an hour for cars using Le Shuttle.
A Le Shuttle train, carrying 382 passengers in their cars, was the first train to be affected by the disruption, coming to a stop in the tunnel on Monday morning when the fault with overhead lines in the tunnel occurred.
Cables were damaged for several hundred metres and had to be replaced.
Repairs were carried out throughout the night and Eurotunnel had hoped to complete the work by the morning and have services running normally on Tuesday.
But the work continued into the morning and it was only at 12:12 BST that the affected tunnel was reopened.
Eurotunnel spokesman John Keefe said: "What we came up upon once we'd removed the train was we found some of the hangers had come off as well, and so that added another layer of complexity.
"We had to clear out more material than we normally would have done, and then we had to install more than we normally would have done.
"And that was what gave us the extra length of time."
Eurostar runs more than 20 services in each direction through the tunnel on a normal week day.
It cancelled the 07:31 London to Paris train; the 08:52 Brussels to London; the 08:58 London to Brussels and the 11:43 Paris to London service, while other journeys have been delayed by up to an hour.
Passengers wanting to use Le Shuttle services - which carry people in vehicles from Folkestone to Coquelles, near Calais - have faced waiting times at the Kent terminal of up to three hours, though a spokesman said that was down to an hour by the afternoon. On Monday, the waiting time was up to six hours.
The train affected by the loss of power on Monday, the 06:20 BST train from Folkestone, eventually reached France at 17:15 BST when the passengers, who had been taken to the French terminal after being led off the train, were reunited with their cars.
Eurotunnel has said it still managed to carry 4,860 passenger vehicles and 2,284 trucks through the tunnel on Monday, despite the problems. Fifty-one Eurostars and six freight trains also went through the tunnel.
Under normal circumstances trains run through two main tunnels - one operating from France to England and one from England to France.
But when one tunnel is blocked, the other is used for trains in both directions, with a change of direction about every 90 minutes.
On Monday there were also lengthy traffic queues in Dover as passengers tried to reach ferries.