Trio found guilty of murdering Italian waiter in Kent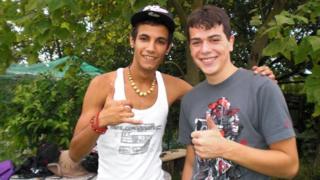 Three men have been found guilty of murdering a 20-year-old Italian waiter in a bedsit in Kent.
Joele Leotta had arrived in the UK eight days before he was found fatally injured above a restaurant in Maidstone in October.
Aleksandras Zuravliovas, 27, Linas Zidonis, 21, and Saulius Tamoliunas, 23, all Lithuanian, were convicted at Maidstone Crown Court.
A fourth man, Tomas Gelezinis, 31, was cleared of murder and GBH.
'Unable to breathe'
Kent Police said Mr Leotta had over 100 injuries in what has been described by the chief crown prosecutor as a "senseless and completely unprovoked attack of drunken violence on two innocent students".
Mr Leotta's family have described the pain of his death and the way he was killed.
A statement released after the verdicts said: "Nobody can see the pain we carry inside ourselves.
"It makes us unable to breathe, it makes us powerless, it leaves us empty and lonely.
'Waste of life'
"He did not deserve something so ugly to happen to him.
"Joele will no longer be able to taste or smell, see, feel pain or feel joy and live his life."
Police were called to the address in Lower Stone Street late in the evening of Sunday, 20 October, where they found Mr Leotta seriously injured.
Kent Police said Mr Leotta and his childhood friend Alex Galbiati were in their bedsit in their pyjamas ready for bed after finishing work in an Italian restaurant when their locked door was kicked in and they were attacked.
Zuravliovas, of Beaumont Road, Maidstone, Tamoliunas of Union Street, Maidstone and Zidonis of no fixed abode, were also found guilty of unlawful wounding of Mr Galbiati.
Mr Gelezinis, of Lower Stone Street, Maidstone, was also cleared of that charge.
Det Insp Ivan Beasley, from the Kent and Essex Serious Crime Directorate, said: "Joele's death was an absolutely tragic waste of life.
"An innocent young man who came to England with his friend for an adventure to work and learn the language was beaten to death."