Ex-UKIP leader to stand as Tory MP for Thanet South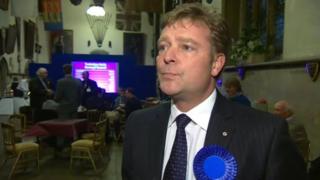 A former UKIP leader and Medway councillor has been selected as the Conservative candidate for Thanet South in Kent in the 2015 General Election.
Craig Mackinlay has been selected to fight the seat which is being vacated by Conservative MP Laura Sandys.
UKIP leader, and South East MEP, Nigel Farage said he had no comment to make about the selection.
In June he had said there was a "distinct possibility" he would stand as MP in the seat.
Mr Farage has confirmed to the BBC he would be announcing during the summer which South East seat he will be contesting at the next election.
Mr Mackinlay was leader of UKIP in 1997 before serving as deputy leader between 1997 and 2000.
He joined the Conservative Party in 2005 and stood for the party in the Kent police and crime commissioner elections in November 2012.
Mr Mackinlay will stand against Councillor Will Scobie (Labour), Russ Timpson (Liberal Democrats) and Thanet Councillor Ian Driver (Green Party) in the May 2015 poll.
Ms Sandys has represented the Kent constituency of Thanet South since 2010, when she had a majority of 7,617.
In November she announced she would be standing down due to "a wide range of family demands".
In 2005, Mr Farage contested Thanet South for UKIP, coming fourth with 2,079 votes.