Kent PCC Ann Barnes rejects David Cameron's criticism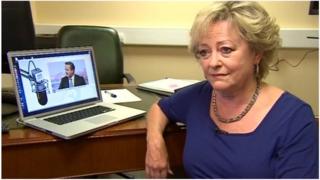 Kent's police and crime commissioner has invited David Cameron to see the work she does after he criticised her performance.
Last month, the Prime Minister said Ann Barnes had "failed to impress" in her role and he "wasn't particularly happy" about what he had heard about her work.
At the time, the BBC was unable to contact Mrs Barnes as she was away on holiday.
She now says she was "disappointed" by his remarks.
"I've never spoken to David Cameron," she said.
"He doesn't know what I'm like or what I do as a police and crime commissioner.
"He's entitled to his opinion; he's obviously reflecting what people around the county have said to him."
She added: "After all, the police and crime commissioner idea was his idea...and I would like the opportunity to talk to him about it."
'Fantastic staff'
Mr Cameron's remarks followed a Channel 4 documentary, which saw Mrs Barnes talk about her £85,000-a-year role.
During the broadcast, she struggled to explain an approach to policing priorities called "the onion", failed to write her title correctly on a whiteboard and also brought her pet dogs into the office.
She said she had not considered resigning.
"In the main I'm doing a really good job in Kent," she said.
"I'm blessed by a fantastic staff and we're putting victims at the heart of everything that happens here."
Mrs Barnes was criticised last year after she appointed Paris Brown as Kent's first youth commissioner, with the teenager subsequently resigning over comments she had posted on Twitter.
And it has been claimed Ms Brown's replacement had been involved in a relationship with a 50-year-old former county councillor and youth leader.
Kerry Boyd, 20, has since not undertaken any public engagements.