Manston Airport talks 'very disappointing'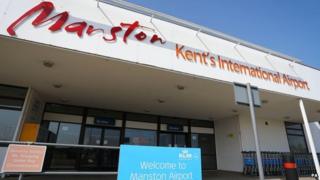 Talks over the future of a Kent airport have been described as "extremely disappointing" by the leader of Thanet District Council.
Iris Johnston met Ann Gloag to discuss the future of Manston Airport earlier.
Ms Gloag, who co-founded the Stagecoach Group, bought the airport in October for £1 and closed it in May, turning down three offers.
Council bosses said Ms Gloag's position remained unchanged.
The closure came after an announcement in March that the airport was in talks about closing because it was losing £10,000 a day.
Ms Johnston and deputy leader Richard Nicholson met Ms Gloag and her representatives, hoping to change the businesswoman's mind.
'Never say never'
Ms Johnston said: 'We discussed the situation regarding Manston Airport in considerable depth with Ms Gloag for over an hour. I am extremely disappointed to say that her position remains unchanged.
"A motion to discuss the compulsory purchase of the airport is tabled for the full council meeting on Thursday 10 July, and we will discuss both this and the substantial petition received on this matter."
Ms Gloag declined to comment.
Kent County Council leader Paul Carter also met Ms Gloag about the future of the site, soon after Thanet council's meeting.
When asked if there was a possibility of the site remaining an airport, he said "never say never" but added: "I think if there were viable propositions coming forward, Ann Gloag would look at them."
Mr Carter said: "If there isn't to be an airport, what else can be done with that site which will be of considerable benefit to the east Kent economy and create substantive jobs?
"We had exactly the same issue when Pfizer announced their withdrawal from Discovery Park, and we had a most amazing challenge, so what do we do now?"