Kent Police investigates more than 1,500 complaints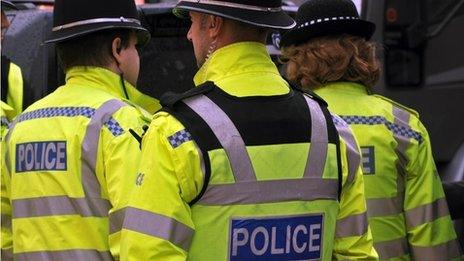 More than 1,500 complaints or misconduct allegations were made against Kent police officers and staff during 2013, new figures have revealed.
There was one complaint of sex assault and more than 120 of assault, figures obtained by BBC Radio Kent showed.
Thirty-seven of 1,251 public complaints were upheld and it was found there was a case to to answer for 90 of the 318 internal allegations of misconduct.
Deputy Chief Constable Paul Brandon said all allegations were investigated.
He said: "We'll actively investigate any allegations whether that be of misconduct such as neglect of duty or excessive use of force through to more serious offences and we will investigate all those allegations wherever they come from.
"If someone as a police officer or police member of staff has done something wrong or seriously wrong then they will either be dealt with through the criminal process or through our own misconduct hearings."
The IPCC study found 39% of people in the South East of England were not confident that if they complained to police their complaint would be handled fairly.
The figures relating to complaints against Kent Police officers and staff were released in response to a Freedom of Information Request from BBC Radio Kent.
There were 56 complaints of "oppressive conduct or harassment", 55 of unlawful or unnecessary arrest, 127 of lack of fairness or impartiality and 155 of "incivility, impoliteness and intolerance".
Complaints were made against officers, police staff, police community support officers and special constables.
Of the 318 internal misconduct allegations, 45 related to honesty and integrity, nine were over use of force, while almost half - 148 - were categorised as "discreditable conduct".
Ian Pointon of the Kent Police Federation said the force received about 800,000 calls from the public each year, working out at 2,191 calls a day.
"So, on these figures alone, only 0.16% of people who contacted us then made a complaint; 99.84% didn't complain," he said.
"I suspect that's a complaint rate that any private sector company would give its right arm for."
Related Internet Links
The BBC is not responsible for the content of external sites.