Medway bookmakers' group 'let down' gamblers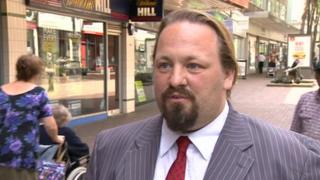 A group set up to tackle gambling problems associated with fixed-odds betting machines has failed to hold a single meeting in a year.
Bookmakers and councillors agreed last May to meet four times a year after setting up the Medway Responsible Gambling Partnership (MRGP).
A council report blames "a drop in communication" with the Association of British Bookmakers (ABB).
The ABB said it had proposed several dates for meetings to Medway Council.
The Medway towns have 30 bookmakers, with each shop allowed to have four fixed-odds betting machines (FOBT).
'Very frustrated'
The machines allow gamblers to spend up to £18,000-an-hour and the council has said gambling debts could lead to domestic abuse, stress and self-harm in users.
The council said last year it wanted to look at a voluntary code of practice for the area and extending a scheme in which gamblers can get a voluntary ban from betting shops.
Councillor Vince Maple said he was "very frustrated" at the lack of progress in tackling the issue.
"Not just of us as Medway Council but also for the problem gamblers who not seen any real change," he said.
"We've attempted to do that - we've worked on a cross-party basis.
"The Association of British Bookmakers have let down the people of Medway."
Industry code
The ABB said it sent emails proposing dates to the council in January, February and April to which it received no reply.
"The meeting we did have arranged for March was cancelled by the council," it said.
"We have recently proposed dates for a meeting in July and are awaiting confirmation from the council."
It said that the industry had launched its own code for responsible gambling.
"The issues relating to self-exclusion are now subject to a consultation by the Gambling Commission and the industry is also taking part in the Local Government Association Betting Commission, working closely with councillors from across the country to address issues of concern."