Raiders of the lost wrecks fined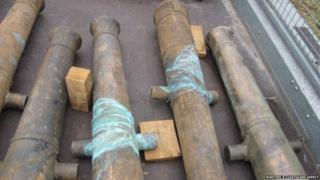 Two divers who plundered shipwrecks off the Kent coast gathered a haul including German submarine propellers and "invaluable" bronze cannons that experts said could have been lost for ever and denied their rightful place in history.
David Knight, 52, and Edward Huzzey, 56, both of Sandgate in Kent, pleaded guilty at Southampton Magistrates' Court in May to taking historical artefacts worth more than £250,000 from sunken vessels without declaring them.
They admitted 19 offences in total but this was reduced to 17 after some articles were retrieved.
Knight has now been fined £7,000, and Huzzey £6,500. Both were ordered to pay costs of £25,000 each.
It is the first prosecution of its kind brought by the Maritime and Coastguard Agency (MCA) under the Merchant Shipping Act 1995.
The sunken vessels targeted included German U-8, UC-64 and UB-40 submarines from World War One and an unknown 200-year-old wreck carrying English East India Company cargo.
Among the thousands of items taken between 2001 and 2008 were eight bronze cannons - weighing half a tonne each - three submarine propellers, lead and tin ingots, valuable lamps, crockery, dozens of bottles, and small Victorian ceramic coffee cans.
Seven tin ingots were marked "William Harvey & Co - Truro" and were taken from a vessel called the Harlingen in July 2001.
A foot-high (30cm) bronze statue of a French saint, which is still missing, was also plundered.
All of the ceramics were in poor condition as measures to prevent further deterioration once they had been removed from the sea bed had not been taken.
Their finds should have been declared to the MCA's Receiver of Wreck, Alison Kentuck, within 28 days of taking them.
Ms Kentuck said the items could then have been returned to the rightful owners of the wrecks, with the finders entitled to a "salvage award".
Knight and Huzzey would have had "very little to lose" if this had happened, she said.
It was not a case of "finders keepers".
There are thousands of wrecked vessels and aircraft in UK waters.
Many wreck sites are protected for their historical importance or because they are considered dangerous, with divers required to obtain a licence under the Protection of Wrecks Act 1973.
Vessels that were in military service when they were wrecked are protected under the Protection of Military Remains Act 1986.
Ms Kentuck said some were scheduled ancient monuments which divers could "admire but not take bits away from".
However, recreational diving on other wrecks was largely unregulated, Ms Kentuck said.
The Receiver of Wreck deals with cases of voluntary salvage wreck material across the UK, and makes sure that the interests of both salvor and owner are taken into consideration.
Under the Merchant Shipping Act, divers must report to the Receiver of Wreck all wreck material recovered, regardless of size or significance.
Knight and Huzzey used explosives and underwater cutting equipment to salvage the items, going "above and beyond your average recreational diver", Ms Kentuck said.
The artefacts were recovered by police from a number of properties in Kent.
None of the wrecks targeted were protected, and it was unclear whether the items had been taken to be sold for commercial value, or whether the divers had just wanted to keep them for themselves, Ms Kentuck said.
She added that it was very difficult to put an accurate value on the "sheer quantity" of the artefacts recovered.
Ms Kentuck said the bronze cannons were the most interesting of the finds and invaluable, along with the German U-boat propellers.
The cannons were constructed in 1807 and have the English East India Company logo, VEIC, on them.
"I don't know of any other parallels," she said.