Folkestone khat arrest believed to be UK first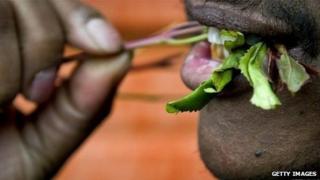 A man has been arrested for possession of the now-banned stimulant khat in what police believe is a UK first.
The 20-year-old was stopped by officers based at the Channel Tunnel in Folkestone, Kent, as he attempted to board a train for Calais on Tuesday.
Kent Police said officers found about 500kg (1,102lb) of khat in pillow cases in the boot and back seat of his car.
Possessing khat became illegal in the UK on 24 June when the plant was decreed a class C drug.
Officers have seized the khat, believed to be worth at least £15,000, for analysis.
The herbal stimulant has been chewed by people in parts of Africa and the Middle East for hundreds of years.