Second Pilgrims Hospice boss Richard Morey to leave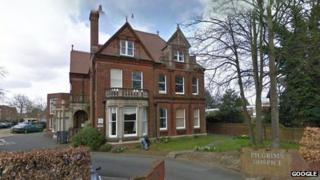 A second executive has resigned from a charity which abandoned plans to close inpatient beds at a Kent hospice following a public outcry.
Dr Richard Morey has been a trustee of Pilgrims Hospice for 14 years and chairman of the trustees for six. He is standing down with immediate effect.
He said the hospice needed fresh leadership to steer it through the next phase of its development.
Last week chief executive Steve Auty said he was leaving at the end of June.
Angry meeting
Dr Morey said in a statement: "Our staff and volunteers are the heart and soul of Pilgrims and I have been privileged to have worked with them.
"I am standing down to enable others to continue the important work of spreading the influence of palliative care as widely as possible whilst retaining the essential essence of Pilgrims Hospice."
The charity announced in May that it wanted to close its inpatient ward in Canterbury and provide hospice care instead in the homes of patients and in hospitals.
The plans were abandoned after 500 objectors attended an angry public meeting and a petition was signed by 18,000 people.
The charity, which receives 75% of its funding from the community and also has hospices in Ashford and Margate, has an annual £1m deficit.
The Canterbury building was said to be no longer fit for purpose.
The vice-chairman of the trustees is to take over from Dr Morey.