Manston Airport reopening hopes raised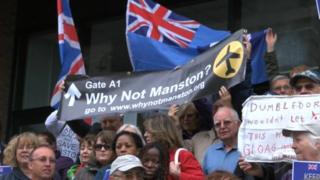 Hopes have been raised that Manston Airport may reopen with a potential buyer announcing continued interest.
The airport in Kent closed in May with the loss of 150 jobs after its owner said no "credible or viable" offers to buy it had been made.
Thanet MPs, Sir Roger Gale and Laura Sandys, met the chief executive of RiverOak, which said it had offered the full asking price, but was rejected.
Ms Sandys said: "We absolutely have not lost hope."
She added: "We had a meeting with a potential owner who has got a great business plan for Manston.
"We need to move forward on the compulsory purchase order and we need to be sensible and cool-headed as we go into this next phase of ensuring that at some point Manston will reopen."
One of the companies which used the airport, flying club T&G Aviation, has applied to the High Court to be able to continue to use the runway.
The application will be heard on 27 June.