Baby elephant makes public debut at Aspinall Foundation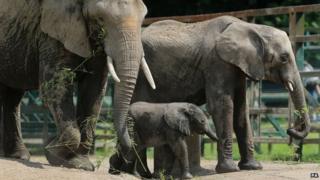 A baby African elephant born at an animal park in Kent has made her public debut at nine days old.
Mirembe, who weighed about 23st 8lbs (150kg) when she was born on 7 June, is the 22nd elephant to be bred at the Aspinall Foundation's parks in Kent.
She and her mother Tami, who has given birth to four other calves, are part of a 13-strong herd at Howletts animal park near Canterbury.
Her father, 37-year-old Jums, has 18 offspring.
"We are delighted to welcome our newest member of the herd and are especially pleased with the range of natural behaviours shown by our elephants, who were all present," said head elephant keeper Natalie Boyd.
"Many other females, including all Tami's extended family, assisted in getting the calf to her feet within minutes and encouraging her to suckle.
"Tami is once again proving to be an excellent mother."
The charity said the baby elephants were among 33 to be born in the UK in total.
Damian Aspinall, chairman of The Aspinall Foundation, the conservation charity that runs Howletts, asked his Twitter followers to suggest a name for the new baby.
Earlier this month the first baby elephant born at West Midlands Safari Park was named Sutton after cancer fundraiser Stephen Sutton.