Penshurst campaigners win judicial review over new homes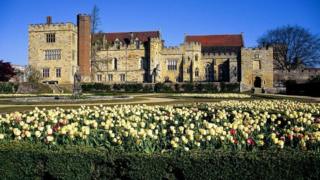 Campaigners have won a High Court battle against plans for new housing in a historic village in Kent.
Plans for six affordable homes at Forge Field, Penshurst, were quashed after a judge said council planners had failed properly to apply planning law.
The land, along with Penshurst Place, one of Britain's grandest stately homes, is owned by Viscount De L'Isle, a descendant of poet Sir Philip Sidney.
Sevenoaks District Council said it would "consider the judgement".
The Forge Field Society has won a judicial review of the district council's decision to grant planning permission for the houses on the two acres of green space south-west of Penshurst High Street.
Villagers claim West Kent Housing Association's plans would "forever alter" the character of the village, which has more than 30 listed buildings.
'Deficient' response
Mr Justice Lindblom, sitting in London on Thursday, agreed with the society's legal team that council planners had failed properly to apply planning law, and there had been a failure properly to consider alternative sites.
He ruled the council's assessment of alternatives in October 2013 "deficient".
The judge ruled that the application for judicial review must succeed.
A spokesman for Sevenoaks council, said: "We have not as yet seen or read the judgement of the court.
"We understand that the judicial review succeeded on two of the five grounds put forward. Both the planning permissions for six affordable homes have been quashed and will need to be reconsidered by the council."
He said the council would be liaising with West Kent Housing and the land owner before bringing back the planning applications for approval.
This story was amended on 17/06/14 to remove a quotation, incorrectly attributed to the judge, that was supplied by an agency.